Bird Feeders
Importance of Cleaning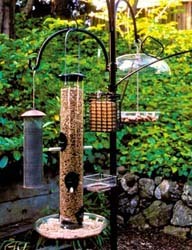 There are probably as many types of bird feeders as there are types of birds. Some are fancy, some are practical, but all will do the job of feeding the birds. What you need to determine is which one is rght for you. No matter what model you decide on, the most important questions that need to be answered are:
- How easy is it to clean?
- How well does it protect my seed from the elements?
Too many feeders sold today are difficult to clean. Ask yourself, "Would I eat off a dirty plate?"If your answer is no, then why should the birds?
Here on the West Coast it is even more important to have feeders that you can clean because of the rain. Wet seed leads to mold in your feeders, which then helps spread disease throughout your backyard birds. And if your birds are already under stress, whether due to cold weather or nesting season, the results can be devastating.
Sometimes determining which feeder is best can be confusing. To answer that question, you must consider what type of birds you will be attracting, what type of seed you will be feeding, and what feeder works best for your yard. To simplify your decision, we have divided this large group into smaller categories. Simply click on the type of feeder you are interested in.