Abbotsford, British Columbia
#13-33324 South Fraser Way
Abbotsford, BC V2S 2B4
Behind the Blue Money Mart

(604) 852-1960
Closed for business today.
Friday


(Good Friday)

Closed


Holiday hours

Saturday
10:00 am - 5:00 pm
Sunday


(Easter)

12:00 pm - 4:00 pm


Holiday hours

Monday


(Easter Monday)

10:00 am - 5:00 pm


Holiday hours

Tuesday
10:00 am - 5:00 pm
Wednesday
10:00 am - 5:00 pm
Thursday
10:00 am - 5:00 pm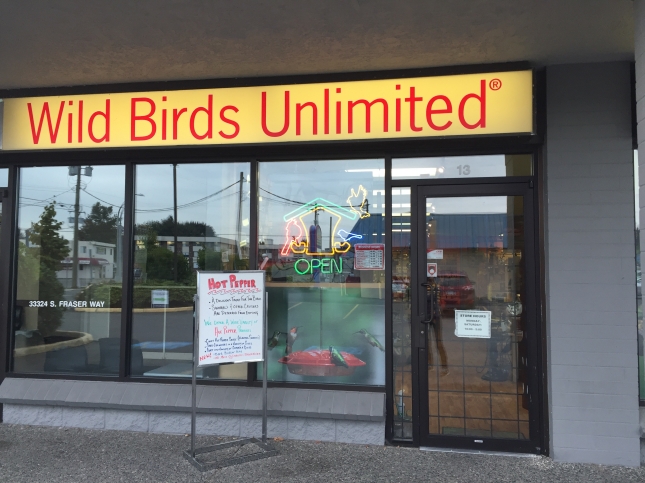 Cliff & Sherry Jury Franchise Store Owners
View Our Store Site
Make March Less of a Stress for Birds
Simply put, March can be a very difficult month for your birds.
Early in the month, birds' natural food supply is at its lowest point of the year. Insect populations are still low, and the few remaining wild fruits, berries, seeds and nuts are either hidden or undesirable. Unpredictable weather doesn't make life any easier. Sunny, warm, spring-like days can turn into cold, damp conditions that challenge birds' survival skills. And to make matters worse, this is all happening as some birds prepare for nesting season.
However, these various challenges provide you with one of the best opportunities of the year to help your birds.
Providing Food Makes a Difference
Offer your birds lots of high-energy foods, such as peanuts and suet. Loaded with fat and protein, these are beneficial substitutes for the scarce insects many birds would eat if they could find them.
Counteract the lack of natural insects by offering protein-rich mealworms. They are eaten by numerous species of birds and can be a lifesaver during a sudden cold snap.
Nesting Birds Need Help, Too
Birds build open-cup shaped nests in trees or on the ground, or they nest in cavities (or holes) in trees. By placing nesting materials and installing bird houses around your backyard, you can entice birds, such as bluebirds, wrens, chickadees, titmice, nuthatches, woodpeckers, Purple Martins, swallows, owls and Wood Ducks. Bird houses can make your birds' lives a little easier. After all, they have already expended a lot of energy establishing territories, courting and looking for scarce food.
If you are using a functional bird house to provide your birds a home, be sure it meets these six requirements:
Designed for the species, according to bird's size and nesting requirements
Ventilation holes to provide release for heat build-up
Easily cleaned
Easily mounted or hung
Durable to withstand several seasons of use
Drainage holes in the bottom of the house
---