Abbotsford, British Columbia
#13-33324 South Fraser Way
Abbotsford, BC V2S 2B4
Behind the Blue Money Mart

(604) 852-1960
Open Today Until 5:00 pm
| | |
| --- | --- |
| Monday | 10:00 am - 5:00 pm |
| Tuesday | 10:00 am - 5:00 pm |
| Wednesday | 10:00 am - 5:00 pm |
| Thursday | 10:00 am - 5:00 pm |
| Friday | 10:00 am - 5:00 pm |
| Saturday | 10:00 am - 5:00 pm |
| Sunday | 12:00 pm - 4:00 pm |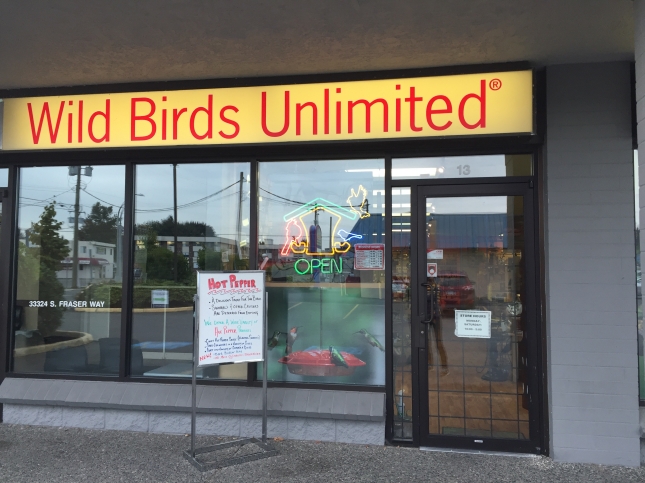 Cliff & Sherry Jury Franchise Store Owners
View Our Store Site
Offer Bird Moms a Helping Hand
Help Mother birds by making their lives a little easier. Provide them with safe, reliable homes and abundant, nutritious and easily obtained food sources.
Safe Homes

Invite Mom to raise a family along with yours by offering appropriate, safe and ready-to-use nest boxes. Well-constructed nest boxes provide more options and more protection from weather and predators than may be found naturally. Nest boxes are available for chickadees, wrens, tree and violet-green swallows and more.

Nesting Nutrition

It may not seem like much, but having to shell every seed you eat can take time and energy. Moms need all the energy they can muster for building a quality nest, laying eggs and raising young. Blends without any shells offer a grab-and-go bite of quick energy.

Our No Mess Blends are packed with sunflower chips and chopped tree nuts, a great source of protein. Protein is essential for baby birds from the time they hatch until they are fully grown. This includes growing strong feathers which are made up of over 90% protein.

The No Mess Plus Blend also includes calcium, a mineral birds need during nesting season.

Mealworms attract common and uncommon insect-eating birds. They are a convenient protein-packed food. Offer them in an EcoClean® Dinner Bell™ or other smooth-sided cup feeder.

Jim's Birdacious® Bark Butter® Bits are packed with energy for quick grab-and-go bites with added calcium. The much needed calcium is attractive to egg-laying Moms as well as nestlings and fledglings.
Fun Facts About Nesting
A bird's primary consideration when choosing a nesting site is security. Protection from predators and proximity to food is of vital importance to the success of a bird's offspring.
The one-foot-long hanging nest of a Bushtit resembles an Oriole's nest and is woven out of a variety of materials including mosses, lichens, leaves and spider's webs.
Chimney Swifts build their nest in chimneys, tree cavities and on walls by gluing twigs together with their sticky saliva.
Chipping Sparrows line their nests with animal hair, preferably horse hair.
Barn Swallows line their nests with feathers.
Since American Crows do not breed until they are between two to four years old, they often stay with their parents and help them raise the young of following years. Family groups may include over a dozen individuals from five different years.
The Cactus Wren builds an elaborate gourd-shaped nest in about ten days, and may fuss with improvements for another several weeks.
Nuthatches line the entrance to their nest with sticky sap to deter predators.
---