Abbotsford, British Columbia
#13-33324 South Fraser Way
Abbotsford, BC V2S 2B4
Behind the Blue Money Mart

(604) 852-1960
Open Today Until 5:00 pm
| | |
| --- | --- |
| Monday | 10:00 am - 5:00 pm |
| Tuesday | 10:00 am - 5:00 pm |
| Wednesday | 10:00 am - 5:00 pm |
| Thursday | 10:00 am - 5:00 pm |
| Friday | 10:00 am - 5:00 pm |
| Saturday | 10:00 am - 5:00 pm |
| Sunday | 12:00 pm - 4:00 pm |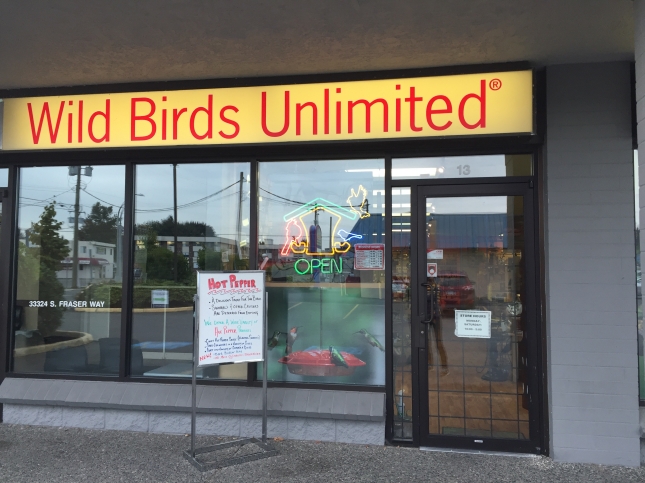 Cliff & Sherry Jury Franchise Store Owners
View Our Store Site
It's Christmas for Your Backyard Birds!
We have some special, festive bird foods that allow you to give your feathered friends a special gift too!
Festive Suet
Full of peanuts, almonds and cranberries, our exclusive Christmas Suet is a high-calorie energy source that attracts birds such as woodpeckers, chickadees, bushtits and nuthatches. And like all of our suet, Christmas Suet is rendered to eliminate impurities.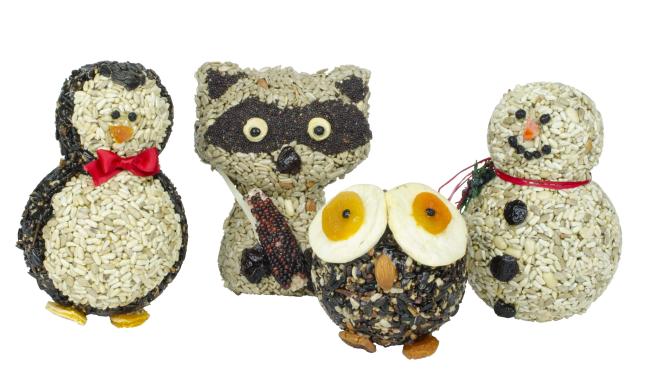 Bring Home a Seed Character
Honestly, could they be more adorable? Available exclusively at Wild Birds Unlimited, we offer several fun Seed Cylinder characters, including Hoot the Owl, Rascal the Raccoon, Preston the Penguin and Buttons the Snowman. Each is a mix of seeds, nuts and fruit and a wonderful addition to any yard.
Each character makes a great guest helping you attract many of your favorite birds, including chickadees, woodpeckers and goldfinches. They hang around for a while so you don't have to venture into the wintry weather too often to replace them. And they are fairly tidy to boot.
The variety of ingredients in our exclusive character Cylinders makes them a perfect addition to any yard as well as great gifts. Visit the store to bring home one of our adorable seed characters before they're gone.

Treat Your Birds This Holiday Season
The Wild Birds Unlimited Christmas Seed Wreath does double duty during the holidays. Not only is it a dining delight for birds, but it also adds festive cheer to any yard. This wreath is chocked full of black oil sunflower, peanuts, almonds, pecans, peanut suet nuggets and cherries. Show your birds you care this holiday season with a treat they'll enjoy time and time again.
Try Our Fiery Feast™ Seed Blend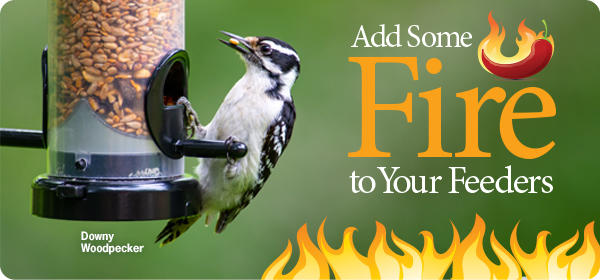 Feed the Birds, Not the Squirrels

We know you enjoy feeding your backyard birds, but sometimes those pesky squirrels and other critters can put a damper on things. That's why we offer a variety of hot pepper bird foods, including Fiery Feast™ available exclusively at Wild Birds Unlimited. It's a mix of hot pepper and shell-less seeds so it's also a no-mess way to feed the birds.
Pound for pound, our no-mess blends are the best value because you don't pay for uneaten seed waste. And with hot pepper included, you'll see critters shy away while feeding the birds you love to attract!
Shop our store to learn how Fiery Feast can help keep the critters away from your bird feeders. And how you can attract more beautiful birds to your backyard.
---