Why Does this Woodpecker Love My House?
Courtship rituals, followed by the spring nesting season, are a very busy time for our birds. The race is on to impress a future mate and secure your place in the next generation of your species. In order to do that, you must be bigger, prettier, stronger...and louder.
Woodpeckers love to drum on anything that will amplify their sound and let everyone hear it. At our property in the Cariboo, the sapsuckers' favourite tapping spots are the metal plates on the telephone poles. Here in more urban areas, the Northern Flickers love to drum on chimneys and metal flashing. The metal makes a great sound as far as the woodpeckers are concerned but unfortunately it also echos (very loudly) inside the same house. The good news is this usually doesn't last very long before the male moves off with his lady love. The bad news, sometimes they decide that the side of your house would also be a good spot for a nest.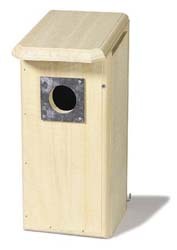 There are several things that you can do to prevent woodpeckers from using your house as either a sounding board or possible home. You can either scare them away or make it difficult for them to access the interesting spots but these must be started as soon as he shows an interest.
You can try to scare him away by spraying the bird with water from the garden hose or hanging some noisy metal strips or pie plates from the area he likes to drum upon. There are tapes available that play the distress calls of some woodpeckers that are very effective. Or, you can cover the area with cloth or foam to deaden the sound or hang a wooden box or piece of metal for him to use in a less annoying location.

Once a woodpecker begins to evacuate a nesting area, you need to begin damage control immediately. It doesn't take long before he will have drilled through your sidin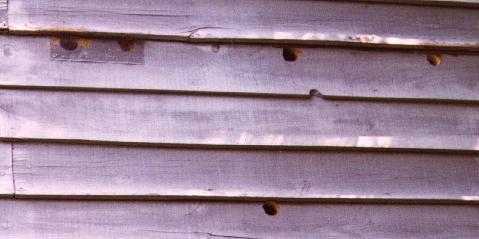 g and into your insulation. Hanging an appropriate nesting box in front of the newly made hole is one way to let them use your house without any further damage - you can then patch the area when nesting season is over and then rehang the box. Cover the site that he shows an interest in with plastic, hardware cloth or other screening. To prevent the birds from reaching through the netting, be sure to leave at least 3 inches between the net and side of your house. Aluminum flashing will also work to cover a woodpecker hole. You must be diligent however and continue to block any attempted excavation until the woodpeckers have taken the hint and moved on. It is then safe to fill and cover the holes.
If the woodpecker has already established a nest with young in the side of your house, we recommend that you wait until the young have fledged, usually by mid-summer, before you proceed with your deterrent methods. You can fix the hole once they are gone so just enjoy the young birds while they are there.

Woodpecker Foraging Holes
And if the woodpeckers are leaving numerous small holes over a large area of your house, you possibly have an insect infestation, such as carpenter ants or other wood boring insects. You then need to contact an exterminator as the birds will not leave this feeding ground until the bugs are gone.