Fraser Valley Birds
Backyard Birds - Resident
Black-Capped Chickadee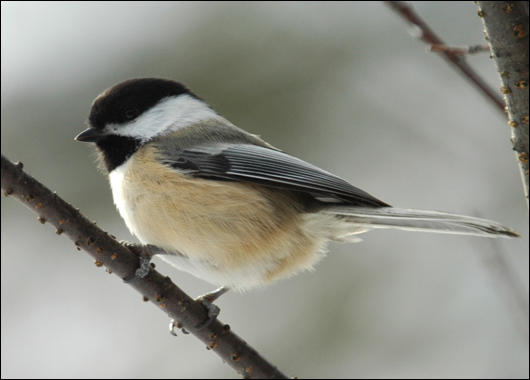 The Black-Capped Chickadee is one of the most popular and easily reconizable backyard birds. At 13.5 cm (or around 5.4 inches), they have a black cap and throat, white cheeks, buffy sides, grey wings and tail and a small, thin bill. Chickadees are very vocal with a variety of songs used for communicating among the flock, attracting mates and staking out territory. Their most reconizable call, "chick-a-dee-dee-dee", can be heard mainly in the winter while their territoral call, "dee-doo", is heard mainly in the warmer months. Chickadees feed by chosing a fat seed and flying off with it to a nearby perch where they crack it open. Favourite foods are black-oil sunflower, sunflower chips, blanched peanuts and suet.
Chestnut-Backed Chickadee

The Chestnut-Backed Chickadee is a smaller chickadee found only on the West Coast. Their colouration is similar to all chickadees, with their cap a brown-black and sides and back a rich chestnut colour. The call is more nasal and higher than the Black-Capped, "chick-zee-zee". The do not have the whistle "dee-doo" call in the spring. Otherwise, these small energetic birds have the same habits and preferences as their larger cousins.
Bushtit

At 10 cm (4 inches), these little guys are the most excitable and energetic birds found at the bird feeders. To look at, bushtits are just small grey birds with longish tails but when it comes to feeding, there is nothing tiny about their appetites! A flock of bushtits have been known to completely cover a suet feeder, while at the same time holding long discussions among themselves and anyone else nearby. Most of the year, except during nesting, bushtits are in large family groups that can number up to 50 birds. Pairs break off from these groups in the spring and raise their young in a complex woven nest consisting of lichen, mosses,cobwebs and other small materials. These nests can usually be found in the winter, where they resemble a grey sock hanging from a tree branch. Favourite foods of the bushtits are suet and blanched peanuts.
House Finch

A medium-sized finch (14 cm or 5.6 inches) that is a regular feeder at black oil sunflower feeders. Males can vary in colour from yellow-orange to raspberry red on their head, breast, rump. The flanks and belly for both sexes are heavily streaked. Because the colouration can vary so much, the males can often be confused with Purple Finches - the key to distinguishing them is the streaking of the belly found only in the House Finch. House Finches are very social birds and, except for nesting season, are usually found in large flocks. When not feeding on black oil sunflower or sunflower chips, they may be found among grasses and flowers feeding on seed heads. An interesting fact about these finches; they are one of the few birds who feed their nestlings exclusively seeds, no protein such as bugs or suet.

I have included this photo of a juvenile House Finch. Both sexes will resemble the female (being heavily striped) but they will always have this "bad hair" day look to them!

Spotted Towhee
Formerly known as the "Rufous-Sided Towhee", this large (20 cm or 8 inches) ground bird can usually be found kicking up debris underneath the bird feeders. Adults have a dark hood, rufous flanks, white belly, black back and wings with white spots on wings - males are blacker, females greyer. Juveniles will be a dusky grey colour - we often see them following their parents around as they learn to forage. Their most outstanding characteristic is their red eye. The call of the towhee can be either a melodious song or a rising "schreeee", resembling a rusty door screech. Towhees feed on insects and seed (millet, sunflower chips) found on the ground, they do not often go up onto feeders.

Song Sparrow
The Song Sparrow is our most common native sparrow. They are medium sized (15 cm or 6 inches) and like most sparrows, both sexes are predominately brown. The breast is streaked with dark brown, with a central brown spot under the throat and there is a grey eyebrow, brown crown with a grey central stripe and dark beak and legs. Male song sparrows have a beautiful song that can be heard all year round, unlike other birds. These birds normally feed on the ground on insects, seeds but they will go onto feeders for millet, sunflower chips and occasionally suet.

Downy Woodpecker
These feisty black and white woodpeckers are our smallest (17 cm or 6.8 inches). Both sexes have a white or buffy belly and back, white eyebrow and moustache and a black wings with white spots - males have a red mark on the back of the head. They also have a short, stubby bill ( one of the main ID marks). When not on the suet feeder or blanched peanuts, they can be seen foraging for insects on trees.

Hairy Woodpecker
Hairy Woodpeckers are almost identical to the smaller Downie. The best way to tell them apart, other than the size (23 cm or 9.2 inches) is the bill. The bill of the Hairy is long and chisel like - the length is as long as the Hairy's head. Like all woodpeckers, they feed on trees for insects, suet and blanched peanuts.

Northern Flicker - Red-Shafted
The flicker is one of the more beautiful birds that come to our backyard. They are large (30 cm or 12 inches), have a brown cap, grey face, barred brown back, spotted buffy belly, white rump, black crescent bib and orange-red under the wings and under the tail. The male have a red moustache mark. Flickers will feed on sunflower chips, suet and blanched peanuts in the backyard and are often seen foraging on the ground for ants. Flickers are also known for their enthusiastic drumming on flashing or chimneys in the springtime when they are establishing their territory and looking for a mate.

Pileated Woodpecker
The largest woodpecker in North America (unless the Ivory-billed Woodpecker is still in existance) resembles the cartoon "Woody Woodpecker". They are crow sized (41 cm or 16.4 inches), mainly black, with a white facial stripe and markings, white wing patch and a large crimson crest. Males have a red moustache mark. Pileated pairs mate for life and have a large territory - although they remain a mated pair the two may winter in separate parts of their territory. They excavate large, rectangular holes in trees looking for insects, especally carpenter ants. They have been known to cause small trees to break in half during feeding. If lucky, you may attract a Pileated to your suet feeder.

Red-Breasted Nuthatch
These round little birds like going down trees looking for insects and other goodies. Nuthatches are grey above, rusty-red below with a black cap, white eyebrow, black eyeline and a stubby tail. Their call is a nasal "enk, enk, enk". They can frequently be seen hiding black oil sunflower in posts, tree trunks and other hiding spots for winter feeding. Chips and suet are also favourite foods. The nuthatches once were uncommon in Abbotsford but have been making a comeback to backyard feeders in the past several years.

Fox Sparrow
This sparrow is often confused with the very similar Song Sparrow. Fox Sparrows are usually a darker brown and slightly larger (16 cm or 6.4 inches) - the real key to telling them apart is the beak and leg colour. The colour of their legs and beak are yellow, not dark like the Song. Fox Sparrows are also much shyer and tend to scrape and kick the ground with both feet while feeding.

White-crowned Sparrow
White-Crowned are pretty sparrows that not everyone is lucky to attract to their backyards. The have a grey breast (no stripes), black and white head stripes and a yellowish bill. They are year round residents but most often seen in the summer; winter finds them in large flocks near fields and agricultural land. Like most sparrows, they feed mainly on the ground for seeds and insects. Will eat millet and sunflower chips.

Steller's Jay
The Steller's Jay is a noisy addition to the backyard. They are a larger bird (30 cm or 12 inches) and coloured a deep blue with a black head and crest. You may sometimes see white feathers on their forehead below the crest. As all jays, they will eat almost anything they can get into but they enjoy whole peanuts and suet. Steller's Jays have excellent memories so they can usually find those peanuts they hide throughout your yard (if the squirrels don't get them first!). They are also excellent mimics, able to reproduce both bird calls and human noise, like car horns.
Backyard Birds - Winter Resident

Dark-eyed Junco
Junco's are commonly known as "snow birds" as they traditionally arrive here in late fall and stay the winter. Very social, you usually see them chasing each other on the ground (hence "pecking order"). Our most common colour variety (there are 5) is the Oregon Junco. They have a short pink bill, white outer tail feathers, white belly and brown back: males have a black hood, females a grey hood. Traditionally ground feeders where they fed on seeds and insects, they will go up on feeders for millet, chips and suet. Although most juncos leave in March, some do stay behind to nest in either brush piles or tall grasses.

Varied Thrush
This member of the robin family can be an erratic visitor to your backyard. The Varied Thrush is a bird of the alpine and moves down to lower regions when it becomes cold and snowy - they go to the lowest elevations when the winters are severe. That is the reason why some years we don't see any and others we see lots. These birds are very colourful, with bright orange plumage, dark mask, dark breast band and a short tail. The female is the same as the male but duller and more brown. They are very energetic ground feeders, throwing leaves around and scratching in the dirt looking for insects or any fruit or berries. Thrushes will eat millet or any other seeds on the ground - we have had them on the suet occasionally as well.
Anna's Hummingbird
Most people are surprised to learn that a hummingbird can be here in the winter but that is exactly when most Anna's hummingbirds can be found. Although some people have them all year, others find that the Anna's come to their feeders in November for the winter. Females and immatures are the same colouration as other hummingbird females, predominately green and white although there is a small patch of red on the throat of these females. The males sport a brilliant fuchsia head and gorget (in some lighting it can appear black), green back and grey-white belly. When not feeding at hummingbird feeders, Anna's eat tree sap, insects and nectar from any winter flowering plants. During winter nights, the hummer roosts in a well protected spot and enters a torpor - basically shutting down their bodies to conserve energy during the cold nights.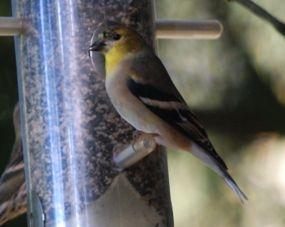 Winter American Goldfinch
Although most of our goldfinches leave the Fraser Valley by October, some do stay the winter. These birds, however, do not resemble the familiar summer bird at all. American Goldfinches is one of the few birds that undergo two complete molts a year. Winter will see them very dull grey (for the females and young adults) or a khaki-grey with touches of yellow for the males. The bills become grey. The wings are the only part of the bird's colours that remain the same throughout the year, black with white wing bars.
.
Backyard Birds - Summer

American Goldfinch
This pretty bird is one of the favourite birds of the backyard. A small finch (13 cm or 5.2 inches) with bright yellow plumage, black cap, black wing with white wing bars and an orange bill (male) in the summer, winter sees a duller, khaki-yellow bird with white wing bars. The female is a dull yellow with black wings in the summer and an even duller grey in winter. Most goldfinches arrive at our feeders in April, although some are resident and spend all year here. Goldfinches are late nesters (usually in July) and it is not uncommon for the male to be left behind to raise the young while the female goes off and has another clutch with another male. Late fall sees the birds leave the backyard and flock together, either in preparation for migration or to find other food sources. Goldfinches LOVE sunflower chips as well as nyjer, they are one of the few birds that eat only seeds, no suet or protein.

Pine Siskin
Pine Siskins are difficult birds to predict when they will appear. They are one birds species prone to irruptions - meaning that they have no set migration route but instead go to where the food is. Siskins are very delicate, small (12 cm or 4.8 inches), heavily barred grayish birds. Males have yellow on their tails and wings, most predominate in the spring. Very social birds, they can be found in large flocks most of the year and even during nesting will remain in small groups. Pine Siskins are the least fussy eaters of the finch family, they eat black oil sunflower, sunflower chips and nyjer. They are also the most susceptible of finches to Salmonella outbreaks. When one bird in a flock contracts the disease, it will sweep through the entire flock in no time, causing people to find dead birds sometimes littered in their backyards.
Black-Headed Grosbeak
Not only is this grosbeak a very pretty bird, the male has a beautiful song. We usually hear our first songs in May when they arrive from their migration in Mexico. A large bird (20 cm or 8 inches) with a very noticeably large, conical bill. The males have a black head, wings, tail (white marks on the tail and wings) and an orange-brown breast and rump (left). The female is mainly brown with a strong white head stripe, moustache and eyebrow (right). Their favourite food is black oil sunflower. Both adults raise the young and then all join the larger flocks in August or September for the migration south.
Evening Grosbeak
This is another bird, like the Pine Siskin, which is difficult to predict when they will arrive. But when they do, they usually descend on your feeders in large flocks. Evening Grosbeaks resemble large goldfinches (20 cm or 12 inches), with a very prominent conical bill that can vary in colour from chartreuse green in breeding season for the males to pale white during the winter. Their black wings and tail have large white patches. Males have a yellow eyebrow, yellowish-brown head and chest and a yellow belly and back (left photo). Grosbeaks spend most of their lives in large flocks which move constantly to find food. Black oil sunflower is one of their favourite foods, they can empty a feeder in no time - it has been estimated that an Evening Grosbeak can eat 96 sunflower seeds in 5 minutes!
Rufous Hummingbird
While the goldfinch means summer to many people, the Rufous Hummingbird is the herald of spring. Appearing in mid-March from their migration up the coast from Mexico, they arrive hungry and feisty. For their size, Rufous Hummingbirds are one of the most aggressive birds in the world. They are easy to identify - the male is the only hummingbird that is a red-brown and white colour while the female is green and white with a rufous flank. They feed on nectar from flowers, small insects like spiders and sugar solution from hummingbird feeders. Male hummers do not help in the rearing of the young birds; he leaves that to the female. Rather, he attempts to mate as many times as he can with as many females as possible (a real playboy!). Females raise the 2 young in a nest made of cobwebs and lichen no bigger than 2 inches across. By August our resident hummers are gone and by September, all migrants traveling south from the north have also left.
Hawks of the Backyard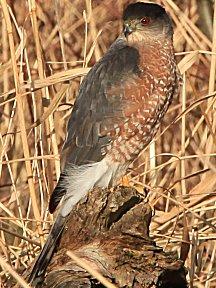 Cooper's Hawk
The larger of the two hawks at an average of 43 cm (17.2 inches), we have had Cooper's frequent our feeders during early spring. Their colouration is identical to that of the Sharp-Shinned Hawks but they have thicker legs and the tail is rounded at the tip. The cap on the adults is not always as well defined as well. Very fast and agile flyers, they take birds as large as a robin or grouse as well as small mammals. Both hawks pluck their prey before eating - one sure sign that they are around is either piles of feathers on the ground or seeing feathers floating down from a tree limb.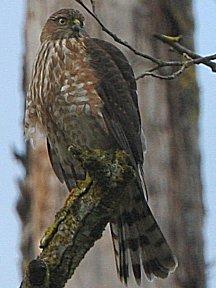 Sharp-shinned Hawk
This is the smaller of the two hawks that visit our backyard yards, although size can be a difficult tool to use to tell them apart: a female Sharp-Shinned may be the same size as a male Cooper's Hawk. On average, they are 30 cm (12 inches) long with a dark grey head and back, brown barred chest and a red eye. The legs are yellow and thin and the tail is broadly banned with a square tip (the two key ID guides). Sharpies make their home in dense coniferous or mixed forests and they feed almost exclusively on birds. Their short wings make them extremely agile at flying in forests. We are at the northernmost point of their range so it is not uncommon to see these hawks all year round.
Owls of the Backyard
Barred Owl
This is our most commonly seen (or heard) owl. A medium-sized owl (16-32 inches) with a brown mottled back, buff-white breast with dark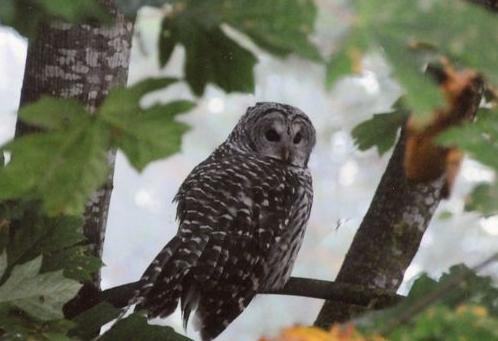 brown bars that change to dark brown stripes on the belly. The eyes are dark brown or brown black with dark rings around them and the face shows dark spotting on the tan, white and brown feathers. Sexes are similar. Although mostly
nocturnal, they will also hunt during the day especially when feeding their young. Barred Owls have several calls, the most common is hoo, hoo, too-HOO; hoo,hoo,too-HOO,ooo which is often phrased as Who cooks for-youWho, cooks for you all. Other calls are a strange monkey-like cackle and a blood curdling scream.
(Thanks to Bruce Mayo for the picture of the owl!)
Owlets, usually 2-3 per brood, are born hairless but quickly become covered with white down. By August, they are rather mottled looking as the adult colouration of brown stripes begin to come in. These young owls were raised in our backyard; the twins on the left in 2010 and the larger owlet on the right in 2012.
Introduced Species

European Starling
The over 200 million starlings that range over North America owe their thanks to one group of people, Shakespeare enthusiasts. With a desire to see every bird mentioned in Shakespeare's works living in North America, they released 100 birds in Central Park, NY in the early 1890's. I don't think anyone expected the end result of 200 million birds. Starlings are flock birds, usually found in agricultural land in mixed flocks with blackbirds and cowbirds - much to the dismay of berry farmers. Starlings like to nest in residential areas where there is a good supply of insects and grubs to eat in lawns, as well as suet and bird seed. They compete for nesting space with other cavity nesters, one reason why they are disliked so much. Starlings are great at mimicry; they can sound like hawks, robins and killdeer to name a few.

House Sparrow
The House Sparrow is another introduced species that is one of the most common birds found in North America. The first ones were introduced in Brooklyn in 1851, followed by releases in San Francisco and Salt Lake City in the early 1870. These birds have been living around (and off) humans for centuries and can be found anywhere there are people. For this reason they are common in urban areas and rare in undisturbed forests or grasslands. They prefer to nest in man-made structures and nest boxes rather than in natural cavities. For this reason they have been detrimental to many of our native nest dwelling birds like swallows. House Sparrows eat mainly grasses, seeds, discarded food in cities and native grass seed heads. Millet, sunflower seeds are their favourite food at the feeders. Interesting fact - the House Sparrow is actually a Weaver Finch and not related to our native Sparrows at all.
Eurasian Collared Dove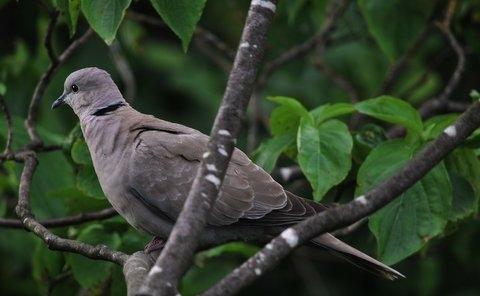 Introduced into the Bahamas in 1970, by 1980 they had first appeared in Florida. It was not until the mid-80's that ornithologists realized that they were not the Ringed Turtle Dove (as originally thought) and the birds have been steadily working their way across the continent ever since. Eurasian Collared Doves first appeared in the Fraser Valley several years ago but it was not until this year (2012) that they became regualr visitors to our feeders. So far it is unknown what affect they will have on our native bird populations.
These birds are mainly grey with a pale grey-buff belly, grey-white orbital ring and a black "half-moon" crescent at the nape of the neck. The tail is long, broad and tipped with white. Call is a musical "coo-coo-cook". They feed on mainly millet at our feeders.
(Thanks to our customer for supplying the photo of the Eurasion Collared Dove)